Tough Questions. Real Answers.
A ground breaking event from IDC Canada that will change the way your company approaches the environment
Designed exclusively for IT, business, government, and corporate responsibility & environment executives, You, Me & Green IT is a challenging and interactive two-day forum for exploring the tough questions, exchanging ideas, and showcasing Green ICT solutions from some of Canada's most innovative companies.
From Understanding to Action our results-driven, interactive agenda includes:
Keynote by David Suzuki, world renowned environmentalist and activist for reversing climate change - David will leverage ICT technology to decrease his carbon footprint via live video hook-up for his presentation and audience questions
Exploring the impact various technologies have on the environment and the use of technology services and solutions to reduce the carbon footprint
Insight into which ICT organizations are leading the charge with the Green IT Agenda
Environmental Syntegration session devoted to capturing and leveraging the collective intelligence of attendees to answer critical strategic questions about technology and the environment
National Panel & Executive Challenge - Featured panelists include: David McLaughlin, President & CEO, National Roundtable on the Environment & Economy, Dr. Ron Dembo, Founder & CEO, Zerofootprint, Grant Buckler, Freelance Reporter, The Globe and Mail, Linda Tuck Chapman CEO, Ontario Education Collaborative Marketplace, David Wallace, CIO, City of Toronto, Ron Buliung, Professor, University of Toronto
A Green IT solution showcase as well as IDC's 10 Green companies to watch.
And much, much more!

Who Should Attend?
Corporate Executives
CIO's CTO's COO's CEO's, Chief Green Officers, Strategic Planning Executives, IT, Business Operations and Systems Engineers, IT leaders from Government Agencies & Universities, Corporate Public Relations & Marketing Executives

Vice Presidents and Directors of:
IT Strategy and Planning, IT Network Services & Operations, Business Operations, Facilities, Office Management, Supply Chain & Logistics Managers, Data Center Services, Infrastructure Services, Shared Services, Product & Communications Marketing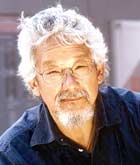 April 9 - 10, 2008
Toronto, ON
Ontario Science Centre
Register Now
Diamond Sponsor